In an intimate 6-day intensive, this advanced program trains people to practice erotic massage, with friends or professionally, with a clear knowledge of techniques, benefits, complexities and precautions. It is an introduction to the principles and practices of Somatic Sex Education. It is a journey of reweaving sex and soul.
Caffyn notes, "Practiced with loving energy and sacred intent, erotic massage invites us to come fully into our bodies, and our capacity for joy. We can heal the shame and pain that so often surrounds and suffocates sexual expression."
"With the encouragement of a skillful practitioner, we can learn to speak our truth and ask for what we want, while staying fully present to our body sensation."
"And when we redeem our sexuality from shame and fear, we enter a matrix of body, mind, spirit and emotions. Transforming ourselves, we change the world."
People take this course because they feel called to help others access the joy and power of erotic energy. To do so, they need a deep willingness to explore their own erotic identity. And they need to be prepared for the many complexities that can arise in erotic bodywork. The course covers Intake, Assessment, Empowering Enthusiastic Consent, Ethics of Practice, Sexual Healing, Erotic Energy Cultivation, Genital Anatomy and varieties of Sensual and Erotic Massage. Participants will gain a solid theoretical background in anatomy and techniques while exploring, at their own pace, the joys of ecstatic practice. This course can be taken as professional education, as a joyful journey of personal transformation and inspiration, for deepening relationship and intimacy as an couple or alone, and for all of these reasons.
Participants learn about Somatic Sex Education and Sexological Bodywork. They learn about themselves, and have a chance to heal body memories and transform limiting beliefs. Tantric and Taoist systems of sexual cultivation, along with Orgasmic Yoga and Western sexology, are used to help access the life force of erotic energy. In an intensive on Salt Spring Island held in Caffyn's beautiful waterfront studio, they learn to cultivate the joys of ecstatic embodiment, and how to pass it on.

Uniquely creative and at times emotionally intense ingredients are integrated with the bodywork. The workshop includes  exercises such as art-making, shadow-work, journaling and group process. These activities help participants confront obstacles to their own pleasure, and acknowledge unresolved fear, shame or sorrow that can block the way to  an empowered and joyful erotic life.
Caffyn offers the program to grounded, ethical, passionate, self-directed learners who feel a calling to this path. Caffyn's original writings on erotic massage form the core teachings.
Students receive a copy of Caffyn's book on Erotic Massage and also have free access to all of Caffyn's video courses plus the huge library of online classes at the New School of Erotic Touch.
Group classes: $1175 CANADIAN.

March 5-10, 2017
October 1-7, 2017
course begins at 4 pm on the first day and finishes at 6 pm on the last day
Registration- Application Form
Caffyn Jesse will be assisted by Katie Spataro at the Intimacy Educator training March 5-10. Katie is a certified sexological bodyworker, full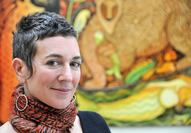 spectrum doula and holistic pelvic care™ provider. Her practice utilizes ritual,touch, breath and movement to tap into the wisdom of our bodies to support our personal and collective healing journeys. See her website for more info: www.sacredwombservices.com
Course description from participant Thomas S:
"Training in erotic massage is part of this course, but there's so much more.  It was a wonderful week of working with power/safe objects, bodily injuries and traumas, the shadow we all carry, boundaries, being 'sticky for pleasure', asking for what you want and yes, erotic massage.  There were only 7 students and 2 facilitators so we were able to dive deep and have individual journeys." MORE TESTIMONIALS
"The soul feels unsafe in a frightened body. From this viewpoint, the bodywork breathes courage into the body, inviting it to feel pleasure within its own edges. It is a way of preparing the body to be a home for the soul again." – Mehdi Dervish
Cost of $1175 includes written and video learning materials. Additional studies, supervised practice and a special project leading to a "Certificate in Intimacy Education": plus $600.

To learn more, contact Caffyn by email